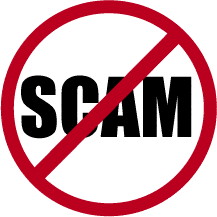 According to some estimates, insurance fraud costs Americans nearly $100 billion a year, made up of all forms of insurance and its many subsets, including bail bonds in Denver Colorado. Like many other crimes, bail bond scams do not discriminate against gender, race, or religion and can be just as devastating as other forms of fraudulent insurance practices. Scams involving Denver Bail Bonds are just as plentiful as anywhere else in the country.
Criminals are becoming more sophisticated, using the Internet and mobile devices to perpetuate identify fraud and take steps necessary for bail bonds scams to look all the more real. Here are some typical bail bond scams to avoid:
Cheap bail bonds, or bondsman who offer rates below the standards set up by the state. For Jefferson County Bail Bonds, as with anywhere else in Colorado, a bail bondsman can charge up to 15 percent of the bail set by a judge. So if bail is set at $10,000 a defendant can reasonably expect to pay up to $1,500 to the bail bondsman as a fee. The problem with cheap bail bonds is they prey on desperate defendants or their loved ones and are an example of the classic bait and switch scam: Offering a low rate to draw you in, then once you've signed the paperwork hitting you up with higher fees or financing offers. Many reputable bondsman who work the Denver County jail or immigration bondsmen in Denver offer financing, but they will always state up front reasonable expenses and what the costs will be to post bail and get someone out of jail.


Bail bond agents who solicit clients in jails, court houses, or even crime scenes. Keep in mind that most states have stringent regulations in place stating when, where, and how a bondsman can solicit business. Almost nationwide, bail agents cannot offer their services from within a jail or courthouse. Competition naturally arises, causing friction not only between bail bondsman of ill repute, but also among well regarded companies who follows the law but also may feel the pinch from a sagging economy. Bail agents who engage such behavior are risking their license and reputation.


Bail bondsmen who solicit business outside of jail are just as bad, and are on the wrong side of the law because it's illegal to cold call clients to gain business. Thanks to the Internet and wireless devices, unethical agents can gather booking information and even contact information for loved ones. Once this information has been secured, an unscrupulous agent will then call to offer services. The bottom line is to ask questions if a bail bondsman calls you unsolicited on behalf of someone in jail because when dealing with Colorado bail bonds, a client must contact a bail agent first – not the other way around.
Protect Yourself from Bail Bond Scams
It's important to remember that fraudulent activities can take place in any industry and in any walk of life. Bail bond scams are no more prevalent than other scams, but you need to protect yourself. Follow these simple steps:
If you are solicited inside or outside a jail or courthouse or even on the street, politely decline the offer.


If you contact a bail bonds company and their offer seems "too good to be true," then it probably is, so keep looking.


Ask to see proof of licensing and insurance.


Ask for references from satisfied clients.
Finally, don't hesitate to ask for referrals from an attorney or another reliable source. The best defense to protect against scams is knowledge.