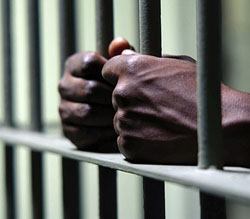 Jail's a scary place. The mere thought of being incarcerated – in a small cell with steel bars for the door and a viewable toilet in one corner for others to observe while in use -- can make even the strongest person physically ill or result in extreme emotional duress. If the thought of Denver Bail Bonds has crossed your mind and you're in need of hiring a bail bondsman in Denver Colorado for yourself, a loved one, or friend, then you must understand the steps to follow before making such a move.
Adams County Bail Bonds are basically the same as anywhere else in Colorado, but how do you actually hire a bail bondsman? Follow these simple steps.
Steps to Hiring an Adams County Bondsman
If you need landscaping work done, you'll likely ask friends or neighbors for references. The same holds true for hiring a bondsman when you're stuck in Denver City Jail, for instance. Never hire the first person you come across. You want someone professional, ethical, responsive, and affordable. So ask around, even if it's only a question put to someone at the jail – even someone else incarcerated.


If you are hiring a bondsman on behalf of someone else, check with the local better business bureau for recommendations or complaints, or conduct an online search. There are many reliable sources for such information.


Call the bail bondsman and tell him or her the circumstances of the arrest. People get arrested at all hours, thus the typical bail bondsman – even a company call against, initially – is available 24/7 everyday of the year. Once you've settled on a bail bondsman, all that's needed is a brief phone call. The bondsman will then contact the jail or courthouse and determine what needs to be done to make bail.


Make an appointment. Most agents dealing with Arapahoe County Bail Bonds know these appointments will take place at a local jail, but also will be happy to meet wherever the person making the call is most comfortable.


Make sure you know what you'll need when completing the application for bond. In most cases this is a cashier's check or credit card for the bond amount, a state-issued ID card such as a driver's license, and the title or deed of ownership for real estate or a vehicle.


Once you meet with the bail bondsman, ask a lot of questions. How long have you been a bondsman? How does the process work? How long will it take for me (or someone I'm calling for) to be released on bail? How much will it cost?


Check to make sure the bondsman is licensed and insured. Any bondsman will provide proof without being asked, but if he or she isn't licensed and insured, then you want to continue your search elsewhere.


Never fall for advertisements of zero down services or services rendered for a small amount of money. People like this operate within all types of business, and will say or advertise whatever is necessary to get you to hire them, and then will hit you with hidden fees. Fraud and unethical behavior can happen anywhere.
The final step is to then complete the application and pay for the bond. In most cases, the cost of a bail bond is 10 to 15 percent of the total bond assessed by the court. In the case of a $10,000 bond set by the court, you would pay a bail bond of $1,000 to $1,500. This money isn't returned; the bondsman pays the full amount and holds this as a fee.